4 Point Inspection vs Full Home Inspection?
I have received questions asking whether the client should get a 4 point inspection vs a full inspection and my answer will always be the same or similar. "What are you trying to achieve and how much risk are you willing to take?"
4 Point Inspection vs a Full Home Inspection – Typical reasons for a 4 Point Inspection:
Home is older and insurance companies' that service Florida areas like Miami-Dade, Palm Beach, and Broward require it
The lender requires it, gives them a snapshot of the overall condition of the components on a 4 Point Inspection form – Roof, HVAC, Electrical & Plumbing to determine insurance eligibility
4 Point Inspection vs Full Home Inspection – Other reasons for a 4 Point Inspection:
It's cheaper than a full inspection ($150-$200 average vs $400-$500 average)
It takes less time to complete a full inspection
It covers the components that typically cost the most and the most wear (this varies because there are other issues that can cost far greater than an old mechanical component such as the water heater
Every client is different and what information they require that makes them feel comfortable enough to complete their deal varies but the risk involved does not vary. It is the same, 4 Point inspections are a very limited inspection that does not tell the story of the home but is a quick evaluation of 4 components that the insurance industry has deemed important about a property for their purposes, not a homebuyers' interest.
4 Point Inspection vs Full Inspection: An example of what home inspectors see when completing a 4 Point Inspection: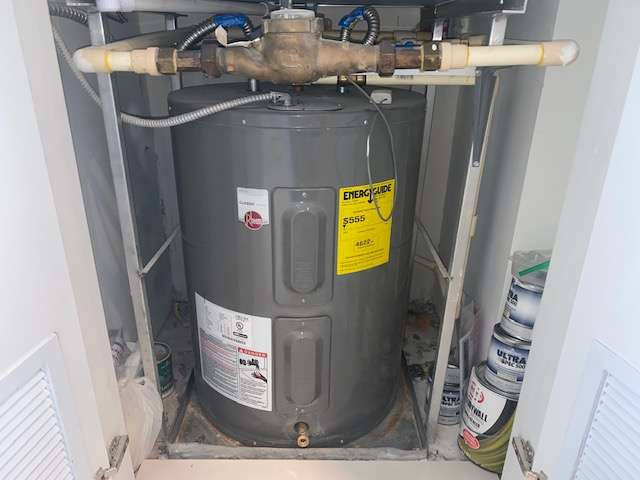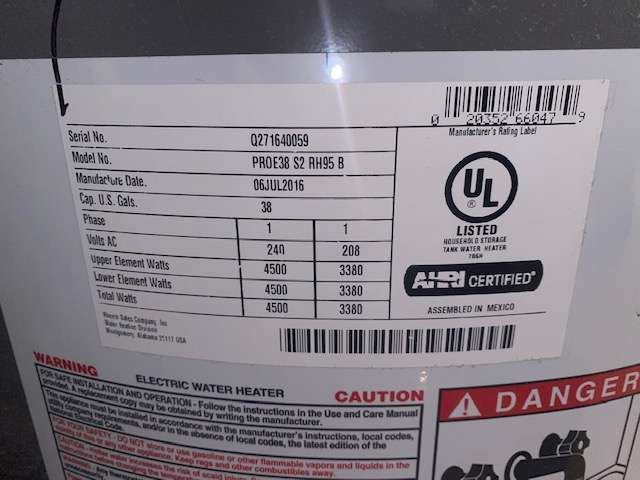 4 Point Inspection vs Full inspection: An example of what a home inspector may not see or does see and doesn't report because it's not a requirement on the 4 Point form: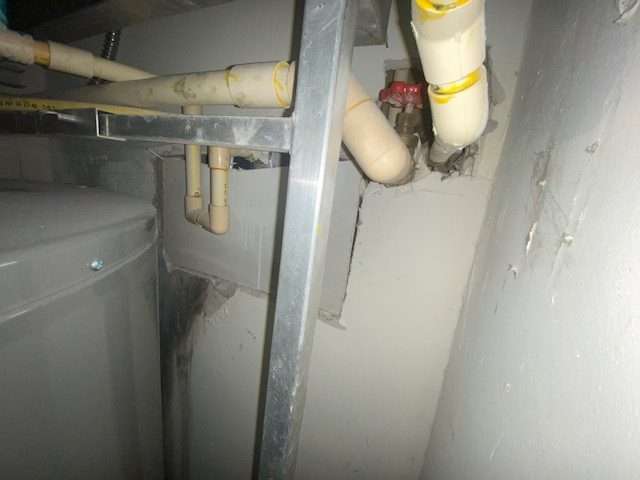 The damage behind the water heater has openings in the wall which allows pest and unwanted moisture in the home. This area is also a prime area for mold growth which could possibly be the stains on the wall but a client may not be aware of the damage because of its location. There is no building science used during a 4 point inspection which means when an inspector is inspecting a property they are considering how components operate together, their installation and maintenance conditions that may lead to something like a roof leak because a wall is lacking caulking or its caulking deteriorates enough that it needs to be maintained soon before the area leaks into the home. Unfortunately, when it comes to a 4 point inspection vs a full home inspection a 4 point inspection is not a suitable substitute for a full home inspection due to the limited information that is collected. The 4 Point Inspection and the full home inspection each serve a purpose of their own. Typically you may also be offered certain
warranties and protection services
that are not given with a 4 Point inspection. When determining a 4 point inspection vs a full home inspection consider what information you need that will help you as a buyer or your client and proceed with the inspection that fits you.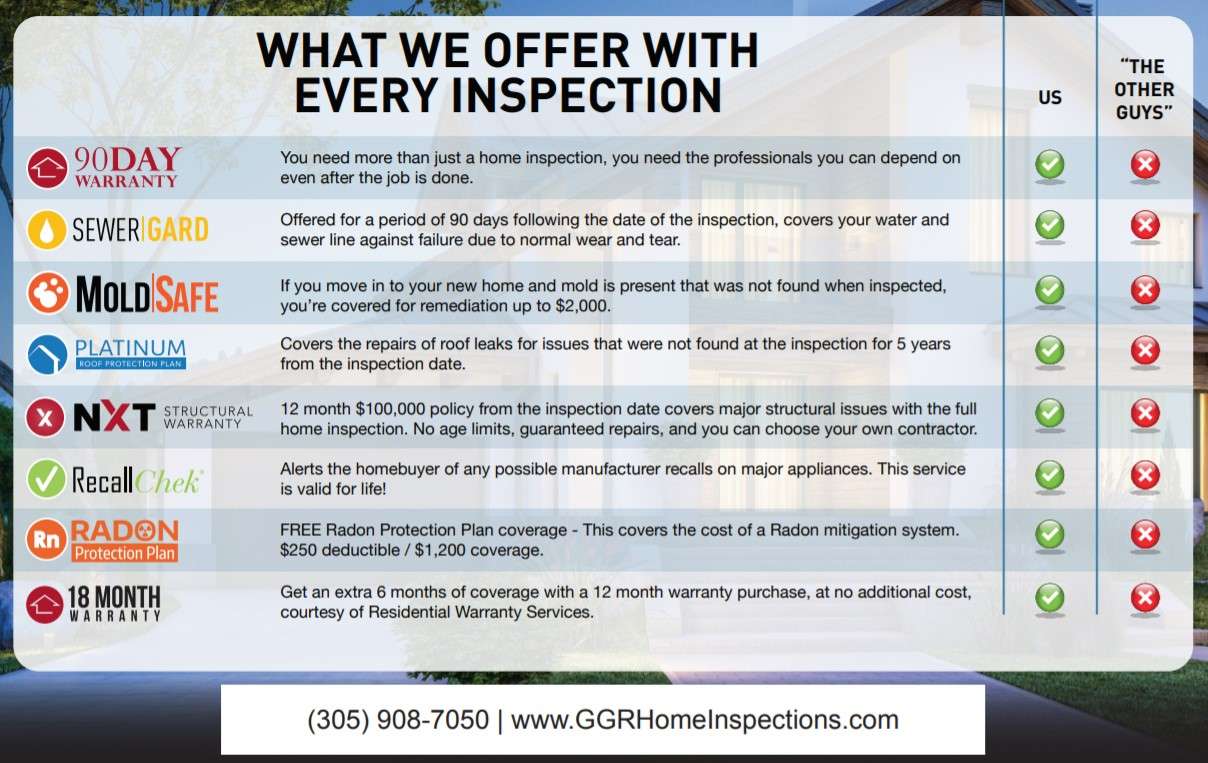 What's included in every home inspection.For additional questions comments or concerns you can comment below or 
text, call or email GGR Home Inspections.
 We service the Broward, Miami-Dade, and Palm Beach counties.