Goodman AC Age: How to Find Year of Manufacture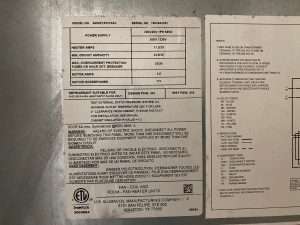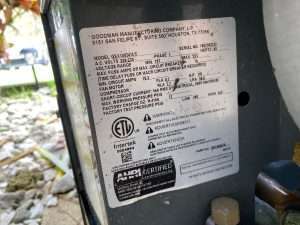 This is a quick reference to show you how to determine your goodman ac age. Goodman ac age typically lasts 10 -15 years but there are instances when they can last much longer. Like most things, usage, maintenance, and installation type will determine how long the unit last.
Goodman AC Age
You can determine the age by locating the serial number that is on the data plate. Every Goodman air conditioner has a data plate on it that displays the data information for the unit. On the data plate, you will see other information such as:
Product Number
Tonnage, Capacity
Volts – AC, Upper, and Lower Watts
Manufacturer Location
There is only 1 style that you will find for the Goodman ac age. It looks like this:
Style #1
02481084563
The first two numbers are the year of manufacture. The following two numbers are the week of manufacture.
Goodman AC Age – Frequently Asked Questions:
1.Are AC units good units – Goodman itself has been around since 1975 and is a high-quality brand for Air Conditioning and Heating? Goodman ranked No. 3 among the best HVAC companies of 2022 according to usnews.com
2. Is Goodman AC a cheap brand? Goodman AC is a budget-friendly high-quality HVAC system. Depending on the model and tier you select, a Goodman AC unit cost between $3000 to $4275. I spent $4800 for both the air handler and the condenser in Pembroke Pines, FL in 2018. This included installation.
3. How long does Goodman AC last? As mentioned at the start, these units typically last 10-15 years.
For more information on your Goodman AC Age, visit their website.
Summary
Knowing your Goodman AC age is not something that we keep top of mind but we should definitely check in from time to time and ensure maintenance is happening regularly. When you know the age of your air conditioner units you can plan accordingly. Both units should be replaced at the same time to ensure you have the best efficiency from the units on the unit list.
If you have not done so already check out our blog on "How to Size the Air Conditioner Breaker" to learn more about Goodman air conditioners.
For additional questions or comments, be sure to comment below. GGR Home Inspections conducts home inspections in the Broward, Palm Beach, and Miami Dade county areas. During our home inspections, we find the age of your water heaters.