4 Point Inspection Form
This article will take a closer look at the 4 point inspection form. The 4 point inspection is a typical inspection that is requested for Florida insurance companies to determine eligibility for insurance. If you are in the market for buying a home and if you are using financing to purchase the home you will be required to complete this inspection during your due diligence process.
Let's jump into breaking down the form. The most widely used form is Citizens 4 Point Form. If your inspector does not follow this format or one similar it may not be accepted by your insurance company. Click here to download a copy of the form.
Section 1 – General Information
Client information recorded
Building Information – address, age, and date of the inspection recorded
Summary of photos that are a requirement recorded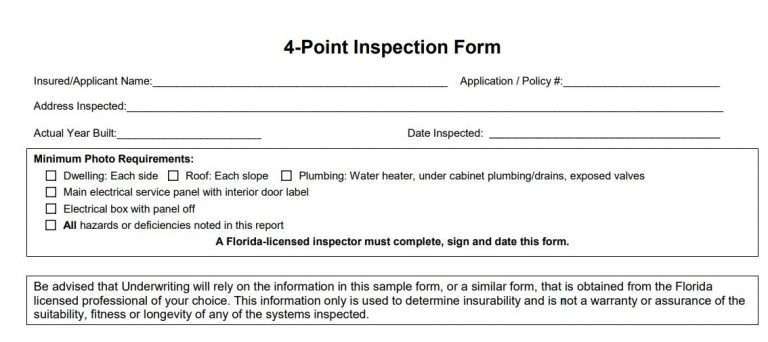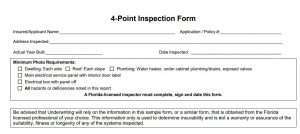 Section 2 – Electrical
The total amps and age of panels will be inspected and recorded
The type of electrical wiring type will be inspected and recorded
Any hazards found will be recorded such as two wires installed to one circuit breaker
Inspector will note whether electrical is found satisfactory or unsatisfactory
Pictures of the exterior and the interior of all panels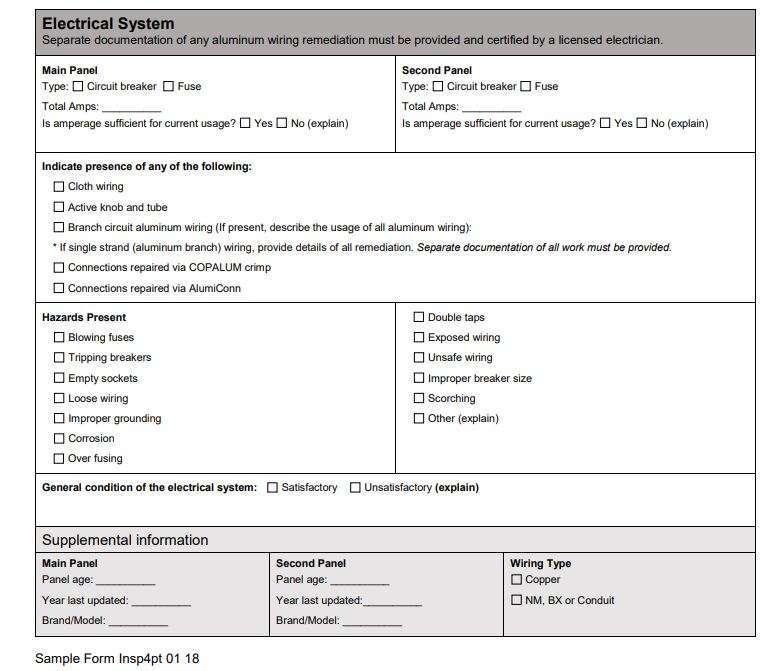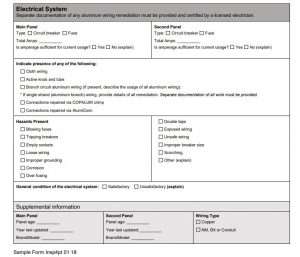 Section 3 – HVAC
The type of HVAC system being used is inspected and recorded
The date of the last service inspection is recorded
Any hazards or deficiencies are recorded such as the condensation drain line leaking
Pictures of all equipment will be taken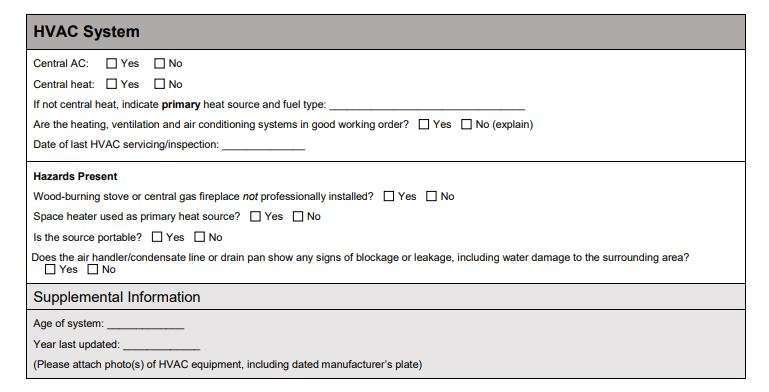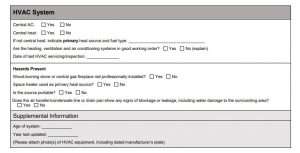 Section 4 – Plumbing
The water heater is inspected and data plate information is recorded
The type and age of plumbing pipes are recorded
All other appliances/fixtures that utilize plumbing such as dishwashers, showers/tubs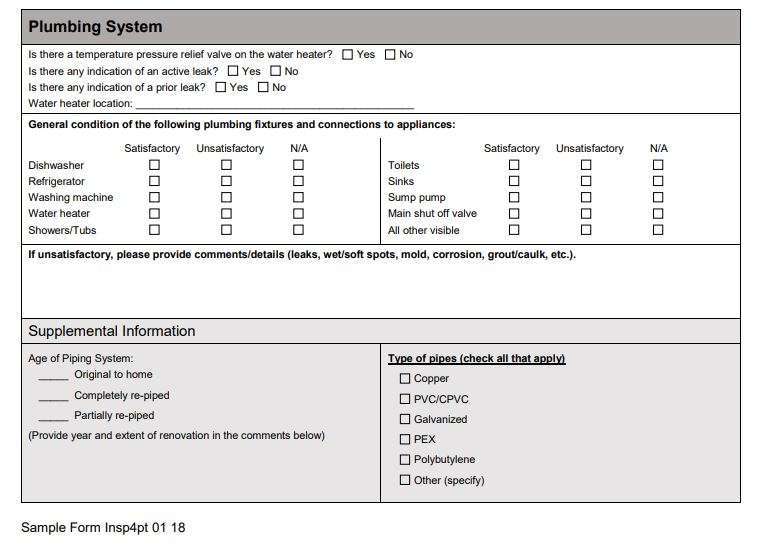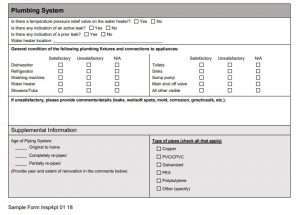 Section 5 – Roof
The type and age of the roof is recorded
The roof is inspected and all pictures of the roofs' slopes are taken
Roof permits are needed and recorded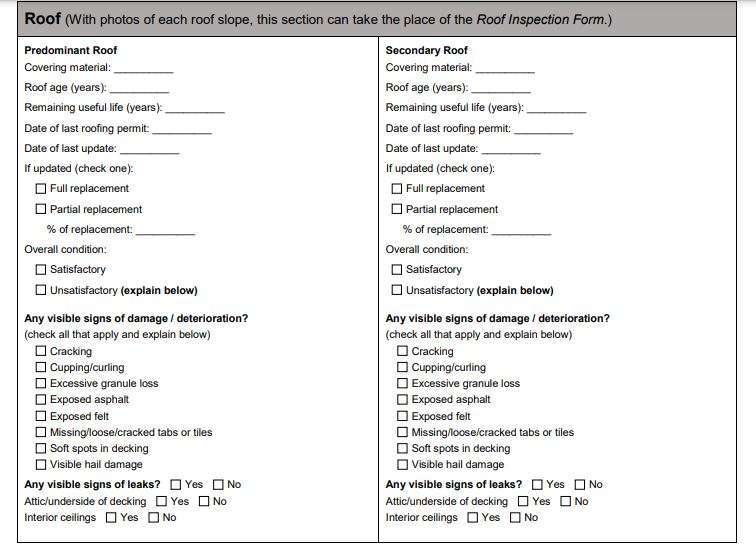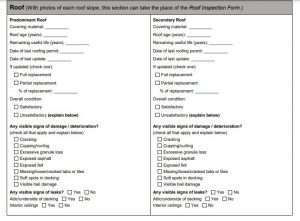 To be accepted, all inspection forms must be completed, signed, and dated by a verifiable Florida-licensed professional. Examples
include:
• A general, residential, or building contractor
• A building code inspector
• A home inspector
Note: A trade-specific, licensed professional may sign off only on the inspection form section for their trade. (e.g., an electrician may
sign off only on the electrical section of the form.)
Note to All Agents:
The writing agent must review each 4-Point Inspection Form before it is submitted with an application for coverage. It is the agent's
responsibility to ensure that all rules and requirements are met before the application is bound. Agents may not submit applications
for properties with electrical, heating, or plumbing systems not in good working order or with existing hazards/deficiencies.
I hope this information has been helpful related to the 4 point inspection form. If you have additional questions and want to get in contact with GGR Home Inspections please send us a note, text, or call.
Wind Mitigation Inspection
A wind mitigation inspection is when a certified inspector checks your home's wind-resistant features. These features can be anything from door/window coverings to the way your roof is attached to your home to how your roof is sealed to prevent water from entering. Onsite Report Delivery Available!
4 Point Inspection
A 4 point inspection looks at the 4 major systems (Roof, Electrical, Plumbing, HVAC) in an older home. An insurance company wants to know that an older home has been well maintained, and the major systems are in good working condition. Onsite Report Delivery Available!
Full Home Inspection
This is our typical home inspection that catches common defects so you understand the investment you're making; home inspector to conduct a thorough examination of the property and check for any problems or hidden defects with the electrical, plumbing, appliances, HVAC system, roof, foundation, etc.